After many successful years the number of SRK race-track type RS30 is complemented by the innovative race-track type RS25.

Heart of this complete new construction is the friction drive, which replaces the conventional drag chain drive. Advantage of this new drive concept is, beside the maintenance friendly execution, the very low noise. 

The race-track RS25 will be delivered in complete pre-assembled  modules.

The supports are equipped with height adjustable feet to level out floor unevenness.

Complete assembly and commencement of operation on site can be done in absolute short time. Only standard tools are necessary for the assembly. Special tools are not required.

Race-tracks can be delivered with stainless steel claddings or, if requested with lacquered mild steel claddings.

The strong and reliable SEW-drive unit with the new high-efficiency-energy saving drive (class IE2) moves a low belt drive. The transmission belt lies on with entire surface at several transport chain links and takes them up by the resulting friction forces.

The forces, produced by this kind of drive, can move a link turn conveyor with a total length of max. 70 m. Race-tracks, which are longer, need a second drive.

All maintenance and adjusting works can be done with standard tools.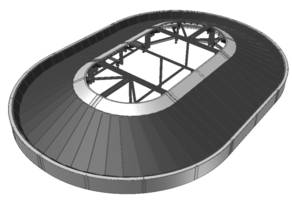 The carrier slats, produced in proven SRK-quality, are antistatic and flame retardant according to DIN 4102, B2.

The slat carriers are produced out of one sheet metal by most modern manufacturing. 

Guide and steering rollers are of identical execution. They have low wear, they are extremely quiet and they have ball bearings with life time lubrication.

The Link-Turn-Conveyor type RS25 can be offered in numerous forms and types. The mostly ordered forms are the O-, L-, T- and U–form (shape).